Learning from GEF Support in Fragile and Conflict-Affected Situations
Webinar on Learning from GEF Support in Fragile and Conflict-Affected Situations organized by the Environment, Fragility, and Conflict Community of Practice of the World Bank. The Independent Evaluation Office of the GEF presented its Evaluation of GEF Support in Fragile and Conflict-Affected Situations. The evaluation assessed the impacts of conflict and fragility on the design and implementation of GEF interventions at three scales: globally, at the country and regional levels, and at the project level. It also assessed the impact of efforts to make GEF interventions conflict sensitive. As of July 2020, the GEF has invested over $4.0 billion in countries affected by major armed conflict, comprising 29 percent of its global portfolio. The evaluation explored five critical pathways through which conflict and fragility affect GEF projects: physical insecurity, social conflict and mistrust, economic drivers, political fragility and weak governance, and coping strategies.
The session presented the negative and positive impacts of these five critical pathways, as well as conclusions and recommendations from the assessment. Several World Bank-implemented GEF projects covered in the evaluation will be used as examples.
Moderator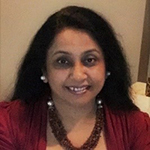 Gayatri Kanungo, Senior Environmental Specialist, ENB GP, World Bank
Gayatri is a Senior Environmental Specialist in the Environment, Natural Resources & Blue Economy Global Practice, where she coordinates and manages ENBs' GEF portfolio across regions and, also leads investment Projects and Programs. Since joining the Bank in 2002, Gayatri's passion has been designing and implementing landscape level approaches and has several years of experience working on environmental and natural resource management issues in Africa. Prior to joining WBG, she has worked with UNDP in India on GEF program coordination and holds a Ph.D. in Biotechnology from the University of Cambridge, UK.
Presenters
Geeta Batra, Chief Evaluation Officer and Deputy Director, GEF Independent Evaluation Office
Geeta has over 25 years of experience in international development including 15 years of experience in program evaluation. Previously, she was the chief evaluator for the IFC advisory services portfolio and worked at IEG as chief evaluator and manager for country and corporate thematic evaluations. At the IEO, she manages a team of evaluation professionals and provides oversight on the design, implementation, and quality of evaluations. Geeta has co-authored books and articles and managed over 100 evaluations. She has a Ph.D. in Economics and an M.B.A in Finance.
Anupam Anand, Evaluation Officer, GEF Independent Evaluation Office
Anupam has over 15 years of experience in evaluation, international development, academic research, and teaching. Anupam has led evaluations on biodiversity, SFM and REDD+, land degradation, fragility and conflict, and illegal wildlife trade. Before GEF, he was a Remote Sensing Scientist at the Global Land Cover Facility (GLCF), working on multiple NASA-funded projects, including field campaigns for future satellite missions. Anupam holds a Ph.D. in ecological applications of lidar remote sensing from the University of Maryland, and a postgraduate diploma in environmental law.